State of Asian American Children – National Report and Conference
A big thanks to all the panelists, attendees and staff who made the first ever conference on the State of Asian American Children a success. We are pleased to make available to the general public our report released at the conference, The State of Asian American Children.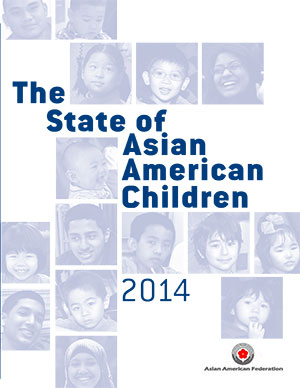 The State of Asian American Children sets out to present a detailed set of statistics from sources that are collected on an ongoing basis. The datasets used in this report are largely from federal government survey or databases, including the decennial censuses, the American Community Survey, and the National Health Interview Survey. The report sets a number of benchmark statistics that can be revisited using the same datas­ets to track progress or changes in the future.
This report also will highlight the need for more collection of data by Asian ethnic groups. Where the national level datasets fail to collect and report data on children from a range of Asian ethnic groups, we will use state and local data to help demonstrate the need for better data.
The bulk of this report is organized as five chapters. The first chapter covers the demographic changes that have occurred over the last decade among Asian American children. Topics will include ethnicity, age, geography, gender, immigration, and adoption. The second chapter will focus on education, including test score performance, high school graduation, college attendance, early education, and disconnected youth. The third chapter on health presents some measures of health status as well as measures of healthcare access, including regular medical and dental care and health insurance coverage. Family structures, divorce, birth, languages spoken at home and English ability will be covered in the fourth chapter. The final chapter on economic circumstances includes measures on poverty, family incomes, parental employment, food security, and housing. We conclude with a section of policy implications to tie together the common themes that emerge from this report.
Press Coverage
Photos
[top]