Astoria: A Vibrant Immigrant Commercial Hub Held Back by Lack of Government Support
BY Linying He, Michelle Shang, and Yuncheng Wang
KEY FINDINGS
In the surveyed area, immigrants were 37.9% of the population as of 2020. Greeks, Mexicans, Brazilians, Chinese, Bangladeshis, and Filipinos were among the larger country of origin groups.
Among the responses we gathered, the cost of utilities, the difficulty in hiring skilled workers, access to funding, and crime were greatly concerning to small business owners.
In order for the neighborhood to continue to be culturally diverse and a nurturing ground for immigrant businesses, we urge the City Council to address these problems faced by Astoria's Asian business owners, many of which are similar to the obstacles faced by immigrant business owners across New York City.
Introduction
In the summer of 2022, the Asian American Federation's (AAF) Small Business team conducted a survey in Central Astoria by reaching out to over 100 Asian small businesses in the area, covering roughly 9 census tracts. Located in the northwestern corner of Queens, Astoria is a multicultural neighborhood of low-rise residences and small businesses that covers the majority of the New York City Council District 22 (Figure 1).
Figure 1: New York City Council District 22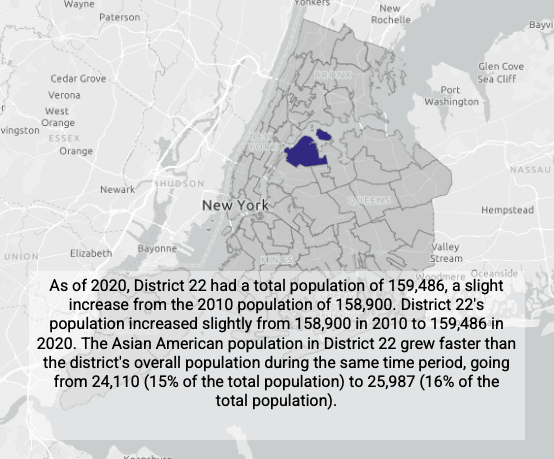 Compared to Manhattan and parts of Brooklyn, the cost of living in Astoria is less expensive. In recent years, the population of Astoria has changed since comparatively lower living costs have attracted people who are younger and of diverse ethnicities. While Greek and Italian New Yorkers make up a significant number of Astoria's homeowners, other recent immigrants include Mexicans, Chinese, Bangladeshis, North Africans, and Brazilians. Their growing presence is reflected in the diverse array of products and multilingual signs on display in the stores.1
Local small businesses have strong connections to the communities in which they are located. Therefore, it is only to be expected that local businesses will feel the effects when neighborhoods undergo meaningful demographic and socioeconomic changes, such as those that occurred over the past decades in Astoria. To better understand the fast-changing business landscape, we covered roughly 9 census tracts (Figure 2).2
Figure 2: Area Surveyed by AAF
In the surveyed area, immigrants were 37.9% of the population as of 2020. While Greeks (6.8%), Mexicans (6.6%), Brazilians (5.8%), Chinese (5.4%), Bangladeshis (5.0%), and Filipinos (4.5%) were among the larger country of origin groups, no one immigrant group made up more than 7% of the total immigrant population. The poverty and unemployment rates of the surveyed area were comparable to the overall rates in Queens and lower than those of New York City (Figure 3).
Figure 3: Poverty rate and unemployment rate, 2020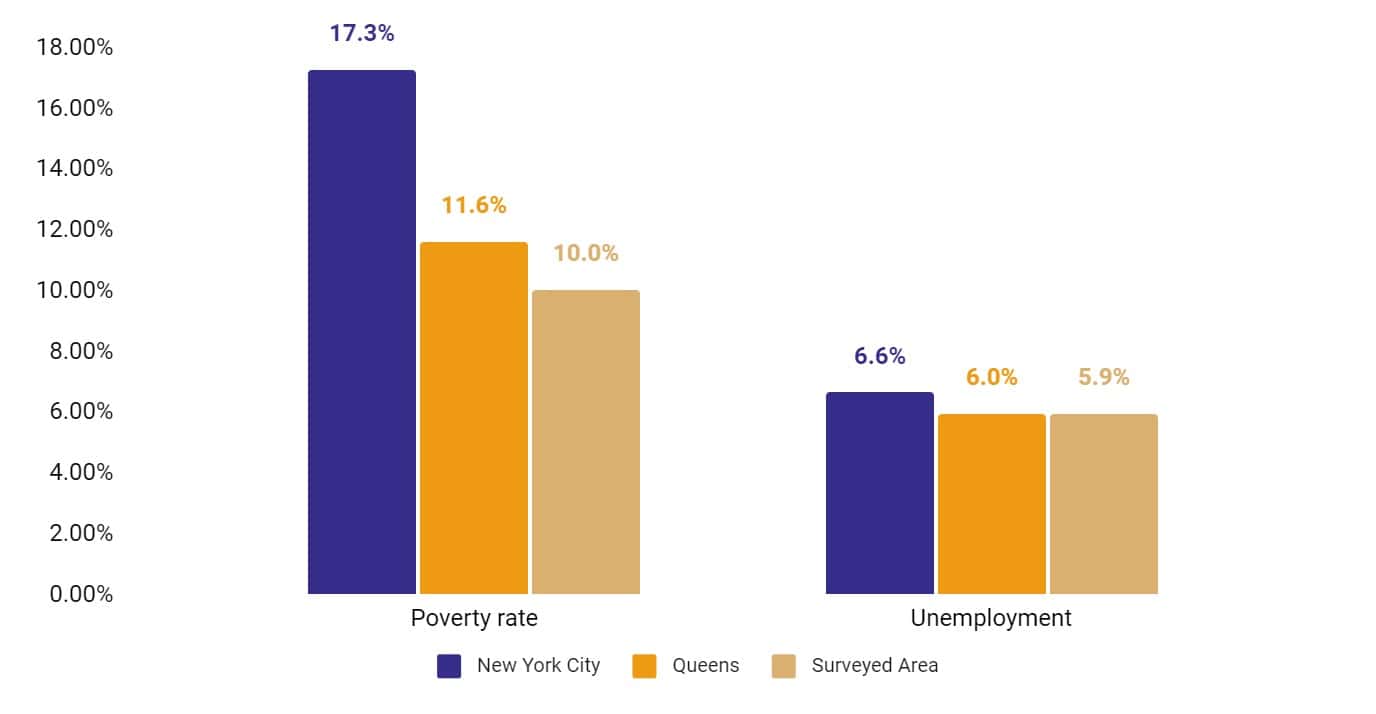 Survey Findings
In these 9 census tracts, AAF did outreach to 102 Asian small businesses. Among the responses we gathered, the cost of utilities, the difficulty in hiring skilled workers, access to funding, and crime were greatly concerning to small business owners.
High Cost of Utilities
Small businesses in New York pay some of the highest average commercial electricity prices in the contiguous United States. As of May 2022, the price of New York's commercial energy was $0.17/kWh, 42% more expensive than the national average price of $0.12/kWh. At the same time, small businesses in New York pay higher rates than high-use industrial clients, who were only charged $0.07/kWh.3
Even worse, utility bills skyrocketed for New Yorkers last winter and this summer. One of the main drivers of this increase was natural gas – which now accounts for more than three times as much of the region's electricity as it did a year ago.4 The weather is another important factor. While New York City saw an average January temperature of 30.3 degrees Fahrenheit (-1 Celsius), which is around 4.5 degrees lower than normal, temperatures between June and August 2022 were higher than usual. These extreme climate fluctuations are increasing utility costs and adding to bills that are already high for many small businesses.
Scarcity of Skilled Employees
The majority of small businesses surveyed felt that hiring and retaining qualified employees was their top challenge. While the U.S. job market has rebounded with more than 540,000 jobs being added per month on average, small businesses are struggling to compete with larger employers on pay and benefits. Smaller businesses complained about the difficulty of even getting candidates to apply for openings, particularly in the hard-hit leisure and hospitality industry. As a result, owners have been forced to do more of their own labor and come up with creative solutions.5
"I have closed my laundromat since this June. I was struggling to find skilled workers who could also speak English. I had to compromise by hiring someone with no experience and training them. But with the Minimum Wage Act, I still need to pay the trainees $15 an hour. And because the trainees did not speak English, it took longer to train them and the business was losing money during the training period. It just did not work out and I had to at least temporarily shut down the business."
— Wendy, Laundromat Owner in Astoria
Limited Access to Funding
The majority of small businesses surveyed sought emergency funding during the pandemic, with the Paycheck Protection Program (PPP) being the most popular option. PPP offered loans that, under certain circumstances, could be converted to grants. Businesses that received PPP funds were more likely to retain or rehire their employees. However, compared to areas of the City in zip codes with a majority of white-owned businesses, small businesses in Astoria and other largely immigrant zip codes received considerably less assistance from the first round of PPP (Figure 4).6
With a rise in participation from smaller, community-based lenders, many minority-owned businesses were able to benefit from the second round of PPP loans. However, the changes came too late for some micro-businesses and sole proprietors; for them not receiving that cash infusion in time meant they had to shut down entirely.
In the post-pandemic era, many immigrant small business owners continue to depend on informal loans, family connections, and other sources of financing to fund their initial operations. Immigrant-run small businesses are the lifeblood of the economy, fueling wealth creation, and employment opportunities. Unfortunately, the lack of access to affordable financing to launch and grow these businesses hampers not just the businesses themselves, but the economic and social well-being of entire communities.7
Figure 4: Share of Businesses Receiving PPP Loans by Neighborhood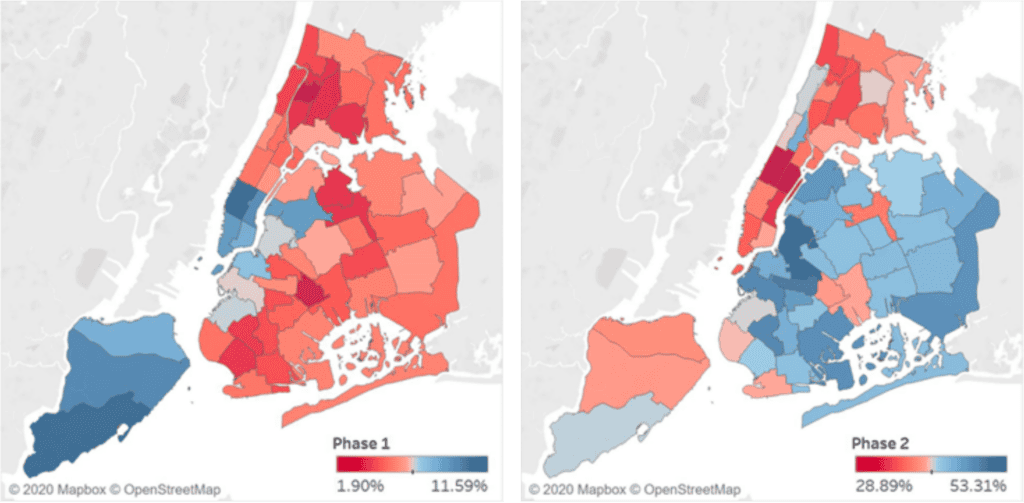 Crime and Safety Concerns
Asian small business owners in the surveyed area have also expressed worry over the sharp rise in racial threats and violence against their businesses since the COVID-19 outbreak. According to NYPD's quarterly data, in Precinct 114, which includes Astoria, hate crimes increased from 2 in 2020, to 10 in 2021. And among the 10 hate crimes identified in 2021, 4 of them targeted Asian Americans.8 However, these numbers hardly reflect the extent of the violence faced by Asian Americans. Estimates show that only 10% to 30% of violent incidents are ever reported to law enforcement, with immigrant business owners even less likely to report racial harassment.
Unfortunately, anti-Asian incidents are not limited to Asian-owned businesses in Astoria. Employees of Asian businesses in the City and across the country have been unfairly blamed for the spread of coronavirus.9 Businesses have been targeted online by racist Yelp reviews, and some of them have been vandalized or robbed. Additionally, the widespread recording and sharing of racist incidents on social media sow even more fear across the community, resulting in a climate that dampens commerce and hinders the economic recovery of Asian and other minority-owned businesses.
"I opened my spa in January 2022. My business or I have not been the victim of anti-Asian hate crime. But I have heard and read about the episodes, and I am certainly concerned. And this has impacted my business in terms of hiring. More than one potential candidate expressed that they are worried about their safety if they do end up working in an Asian-owned business and are wondering if the area is doing anything to prevent anti-Asian hate crimes. And I had no answer."
— Kevin, Spa Owner in Astoria
Policy Recommendations
We recognize the ongoing efforts at the City and the state level that support small businesses, such as the Energy Cost Savings Program (ECSP) run by The Department of Small Business Services, which can reduce utility costs for eligible businesses, or the New York Forward Loan Fund (NYFLF) which is open to all local small businesses that did not receive PPP. However, the Asian small business owners we spoke to were ambivalent about the effectiveness of local government in supporting their businesses. Lack of institutional support—the major merchant organizations in Astoria do not actively include the growing immigrant entrepreneur population—and language barriers—more than 40% of the immigrants in the study region had low English proficiency—have both contributed to this skepticism.
In order for the neighborhood to continue to be culturally diverse and a nurturing ground for immigrant businesses, we urge the city council to take action to address the problems faced by Astoria's Asian business owners, many of which are similar to the obstacles faced by immigrant business owners across New York City.
1. Make relief programs available in the languages immigrant business owners understand
Access to pandemic assistance is limited in immigrant communities because of persistent language and digital access barriers. Small business owners in immigrant neighborhoods are often unaware of these programs or are unsure of how to navigate the application process. In response, we urge the council to continue pushing to ensure that every relief and aid program is available in the languages that communities speak. This effort should include funding for technical assistance programs aimed at small businesses and forging partnerships with local community-based organizations to conduct effective grassroots outreach and support.
2. Address concerns about rising utility costs
Initiatives such as the New York State Build Public Renewables Act aimed at addressing long-term climate justice issues in Queens are laudable. However, in the short term, we also believe that small businesses deserve some relief because their pandemic recovery is being hampered by exorbitant electricity bills.
Mandate that Con Edison charge small businesses the same $0.07/kWh tariff as larger higher-use businesses.
Extend efforts like Senate bills 7668 and A9306 which capped utility costs for small businesses who were impacted by COVID.
Limit the rate at which Con Edison may raise utility costs. For example, cap the month-to-month increase at 5% and yearly increases to 15%. Establish a dedicated hotline for business owners and/or residents to register issues with Con-Ed. Currently, the only option available to small business owners is to contact their local elected officials in the hope that their intervention with Con-Ed will solve the problem.
3. Promote workforce development programs
We urge the City to promote more workforce development initiatives to help ease the current labor shortage hampering small business owners. At present, the only non-English languages that mandatory licensing courses such as Food Protection Online are offered in are Chinese and Spanish.
For immigrant business owners who want to hire employees who speak their language and come from their community, this dearth of training in languages other than English exacerbates their labor shortage. For instance, given the demographics of the neighborhood, courses should ideally be provided in Arabic and Korean in Astoria. To ensure that small business owners can find qualified employees, we urge the City to provide a larger selection of free licensing programs in languages other than English, for a wide range of industries.
4. Support community safety programs
As Astoria and the City grapple with continued anti-Asian violence, we ask that the council continue to support anti-Asian hate measures such as AAF's Hope Against Hate campaign. The campaign includes in-language situational awareness, de-escalation, up-stander, and physical self-defense training sessions, victim support services, safe zones in Asian neighborhoods around the city, and mental health support. We can increase neighborhood safety at the local level by providing funding to community organizations that lead to inclusive mutual assistance and merchant organizing. Thus, we urge the council to support culturally competent merchant organizing efforts in immigrant neighborhoods like Astoria.
Conclusion
Fast-evolving immigrant neighborhoods like Astoria are vibrant hubs of commerce that are crucial to New York' City's economic vitality. They help anchor our communities, create spaces for neighbors to convene, and help improve the economic and social well being of the residents. The issues facing Asian small businesses in Astoria, though, have gone unattended for too long, and as a result, they are still forced to bear rising operational costs, lack access to funding and technical support, and operate in an unsafe atmosphere. It is crucial to support the growth of these Asian-owned businesses in Astoria, to build a just and equitable economy for all New Yorkers.