Asian Americans of all ages deserve the support and resources they need to live full, dignified lives. Asian seniors are the fastest-growing senior population in New York City accounting for 15 percent of the total population aged 50 and up. However, with 42 percent of Asian seniors being poor or low-income, they are increasingly among the City's poorest seniors. There are many barriers that prevent Asian seniors from getting the services they need.

Approximately two thirds of Asian seniors
need help translating English

into one of 12 languages.

Half of Asian elders are
not comfortable accessing the Internet

on their own.

More than a third are
isolated and don't have daily contact

with friends, family, or neighbors.
The Seniors Working Group
For decades, AAF has used data to tell the stories of our seniors and advocate for their welfare.
In early 2021 and with the support of the AARP Foundation, we began convening the Seniors Working Group (SWG). The SWG is the only Asian senior advocacy coalition in New York City and is made up of 12 of our member organizations that together serve over 120,000 low-income seniors from 10 different Asian ethnicities.
As a result of these convenings, AAF was able to create a Senior Working Group Policy Agenda – a public education tool to advocate for Asian seniors – with contributions from each member of the group. It outlines the most pressing needs of Asian seniors, as identified by Asian seniors, and those who serve them. It also includes our policy recommendations to help direct services in meeting these needs.
Our priorities include: 
Protecting seniors from anti-Asian violence;

Promoting access to direct services, including senior centers, social services, and food programs; and

Promoting mental health and combating social isolation
The SWG is dedicated to identifying and meeting the needs of Asian seniors in order to promote their health, safety, and well-being.
"Because I'm old, I can't ask for services or support by myself even if I can speak English, so I need support from people around me." — Participant in AAF's Community Needs Assessment Survey
Resources
The Asian American Federation's Seniors Working Group (SWG) consists of 12 organizations who serve approximately 125,000 low-income seniors annually.
This report quantifies the changes occurring in the Asian senior population in New York City and to present a clearer picture of the needs and challenges faced by our seniors. The report is divided into four main sections: demographics, social […]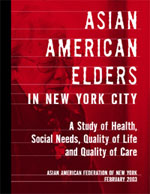 Asian American Elders in NYC: A Study of Health, Social Needs, Quality of Life and Quality of Care (2003)
This report is a significant component of the Federation's efforts to focus academic research and public policy formulation on the needs of the Asian American community. Produced in collaboration with the Brookdale Center on Aging of Hunter College, this groundbreaking […]
CREATE IMPACT
Stand with us to change the systems that are holding our communities back from success