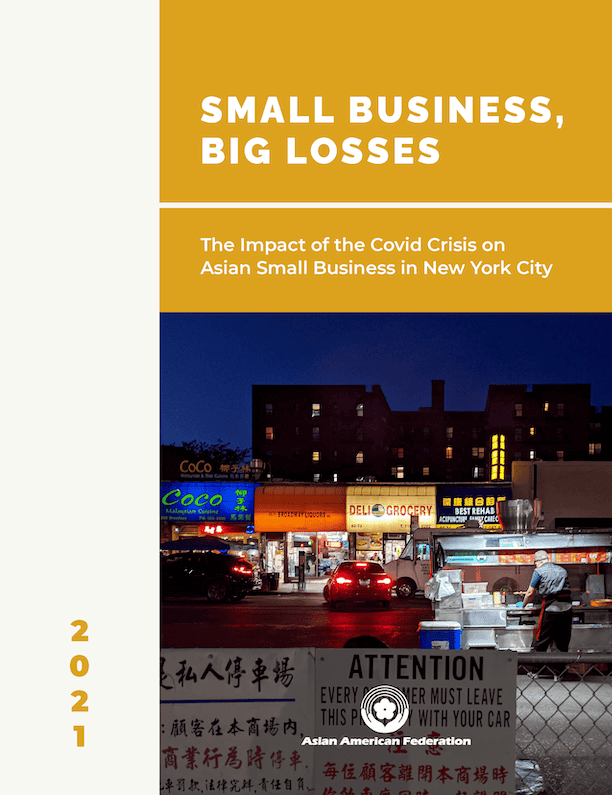 Small Business, Big Losses: The Impact of the Covid Crisis on Asian Small Business in New York City
Download your FREE copy
Asian American small businesses made up 20 percent of New York City's businesses before the pandemic and were the fastest-growing segment of small businesses in our city. However, they were devastated by the Covid crisis, with over half the owners reporting losses of 75 percent or more in revenue in 2020. Yet, very few of these Asian small businesses received the help they needed from the institutions set up to serve them.
AAF surveyed hundreds of small business owners to understand why they were left behind and what they need to survive this crisis.
AAF's latest report:
Illustrates the hardship Asian-owned small businesses experienced due to the pandemic, with real stories and key statistics

Calls attention to the specific systemic issues Asian small businesses faced in applying for, and in receiving, COVID relief assistance

Reveals the impact of anti-Asian bias on Asian business owners and employees, and the need for safety and reporting training

Shares recommendations for private and public leaders to help Asian small businesses recover from the impact of COVID-19
Get your FREE copy of Small Business, Big Losses:
INTERESTED IN OUR RESEARCH?
Sign up for our mailing list to get access to the latest reports and briefs coming from our Research team: